Latest News
2018 Region 19 Competition VFC Evaluation Video
Fri, Apr 20 2018
Watch our evaluated performance at 2018 Competition for which we received mostly A-'s!
YouTube Video URL:
VFC is Region 19 CHAMPS after 27 years!
Tue, Apr 11 2017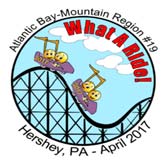 WATCH OUR AWARD WINNING PERFORMANCE HERE~~Valley Forge Chorus proudly received Atlantic Bay-Mountain Region 19's 2017 1st Place Chorus and 2017 1st Place Mid-Size Chorus medals! They will represent Region 19 at the 2018 Sweet Adelines International Convention and Competition in St Louis, MO. Click on hyperlink below to youtube video for better viewing~ENJOY!!

YouTube Video URL:
For more information, see:
https://www.youtube.com/watch?v=Ou_4tOHG7lk&feature=em-upload_owner#action=share
2016 Int'l Competition Video
Tue, Nov 1 2016
Valley Forge Chorus competes in 2016 International Competition in Las Vegas October
YouTube Video URL:
View Us at Phillies Game 9/14/16 Singing National Anthem!!
Tue, Sep 20 2016
Copyright © 2016 The Phillies. All Rights Reserved.

The copyrighted video and/or images available through the link contained in this e-mail are owned by The Phillies and are being provided for the personal use of the individual appearing in the video and/or images. Promotional, advertising and other commercial uses are strictly prohibited without the prior written consent of The Phillies.

Attachment:
Valley Forge Chorus will head to Las Vegas in 2016
Tue, Dec 29 2015
Press Release April 2015
Wed, Apr 29 2015
Press Release
---
Contact: Anne Winner, Marketing Chair
The Valley Forge Chorus Wins 1st Place Midsize in Barbershop Competition
[Valley Forge, PA April 27, 2015] - The Valley Forge Chorus, an all-women chorus that specializes in four-part barbershop harmony and is celebrating its 50th anniversary this year, competed in the annual regional competition held in Ocean City, MD this weekend. The Chorus, a chapter of Sweet Adelines International, won the gold medal in the AA Division for mid-size choruses, placing 2nd overall in the chorus contest, and also received the "Most Improved Chorus" award.
In addition, members of the chapter also competed in the annual regional quartet competition with distinctive results. In a field of 16 quartets, both of the quartets representing the Valley Forge Chorus placed in the top 10. Mosaic and Audacious placed 3rd and 7th, respectively.
Members of the Valley Forge Chorus, who range in age from 20 to 70+, all share a passion for music and singing four-part barbershop harmony. The Chorus holds weekly Tuesday evening rehearsals starting at 7:00 pm, at the Christ Episcopal Church, 536 Conestoga Road, Villanova, PA. To learn more about the Valley Forge Chorus and how to become a member, visit the website at www.valleyforgechorus.com or contact Carol Burghardt at
membership@valleyforgechorus.com or Info@valleyforgechorus.com.
Find us on Facebook at www.facebook.com/pages/Valley-Forge-Chorus.